United by a passion to sustainably power humankind
In addition to being a groundbreaking solution, Sepion's technology can be readily adopted as it leverages the current Li-ion manufacturing infrastructure and liquid electrolytes.
– Nicolas Cudré-Mauroux
Solvay's Chief Technology Officer
What we deliver + our design
Our Partners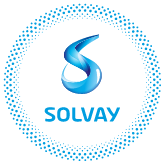 Our Technology
We utilize molecular dynamics together with computational chemistry and machine-learning to develop proprietary liquid electrolytes and nano-engineered separators for the incumbent Lithium-ion batteries (LIBs) as well as next-gen. Lithium-metal batteries (LMBs). Managing uniform, two-dimensional electroplating of the Lithium provides fast-charge and safety performance in improvements in LIBs, while also making Li-metal anodes a commercial reality to safely and cost-effectively unlock 40% increase in range for future e-mobility products.
Shape The Future With Sepion
Sepion is about people, and only by building a dedicated and mission-aligned team can we meet our ambitious goals while staying true to our values.
We are always looking for engaged, highly qualified, creative, and motivated professionals like you!